Upcoming NCCCO Exams
Upcoming CCO Exams
HELLO
Crane Written Exams:
Paper Exams: The next paper/pencil exam is scheduled for October 7, 2023 at the IUOE Local 612 Hall in Tacoma. If you are interested in signing up, contact Katie at the Training Center to receive an email with instructions on how to sign up. 2023 will be the last year that paper/pencil written exams will be allowed. CLICK HERE to view the exam and refresher information
Computer Based Testing (CBT): Candidates can take their written exams at authorized PSI testing centers that are located throughout the country. Visit the CCO website to sign up and after payment is received, you will receive an email with instructions on how to schedule your location, day, and time of your exam.
Online Proctored Testing (OPT): Candidates can now take the CCO written exams in the luxury of their own home! Visit the CCO website to find out if your personal computer meets the technical requirements and to learn more about this new option.
HELLO
---
Hello
Crane Practical Exams:
July-September Seat Time & Testing (Call to Schedule at 509-968-3203, ext. 801)
---
Hello
Rigger /Signal Person Exams:
The next Rigger and Signal Person paper/pencil written exam and practical exams will be on November 4, 2023 at the IUOE Local 302 Hall in Bothell. CLICK HERE to view the exam and refresher information.
First Time Certification: Candidates will need to pass both a written and practical exam to gain certification. The Training Center offers training classes throughout the year to help prepare for the certification testing. FREE training study books can be sent out to qualifying members from Local 302/612 only. Contact the Training Office for more information.
Recertifying: Candidates that already have the certification, but wish to recertify before their expiration date will need to take a Rigger written exam and a Signal Person practical exam. Candidates can sign up and take their Rigger written exam through a variety of options on the NCCCO website. Candidates needing to schedule their practical exam can contact the Training Center and the examiner will schedule a date and time to test at a Local Union Hall. Don't wait until the last minute to recertify!
Computer Based Written Exams (CBT)
---
Computer Based Written Exams (CBT)
Candidates that wish to have the ability to schedule their own date and time to take the CCO written exams can utilize PSI testing centers across the country. Another benefit to testing electronically is that your results will be available immediately after your exam.
Sign Up Process: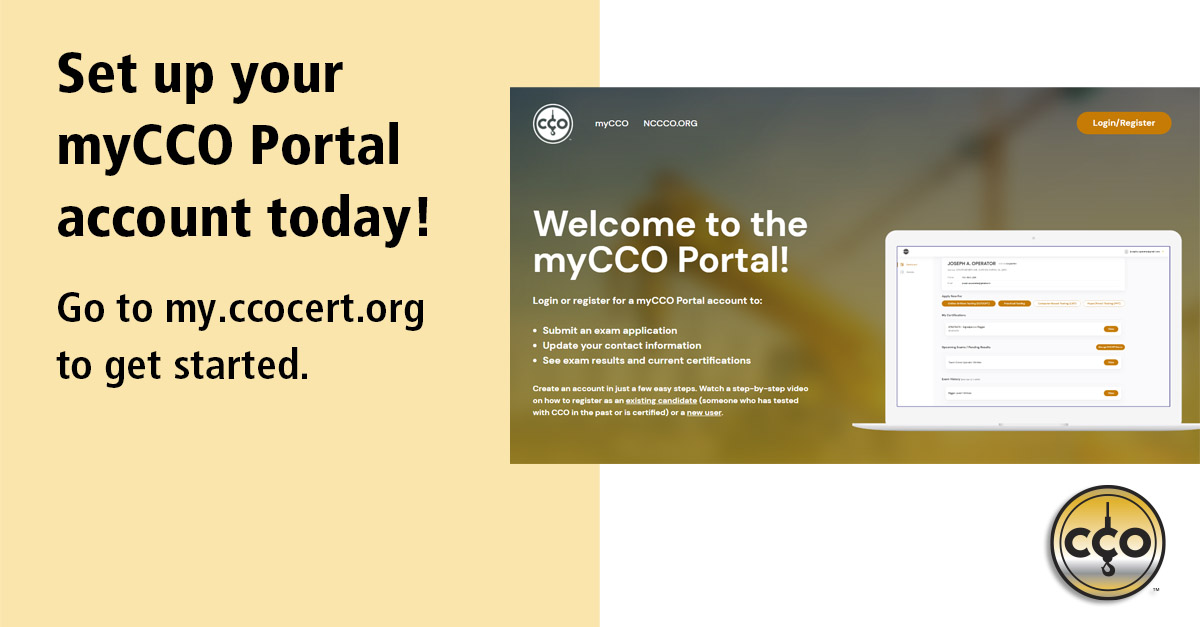 Begin the online application process by visiting the CCO website and logging into the CCO portal. Click Here to visit the CCO portal
Once you are signed into the portal, choose this button to begin the CBT sign up. Select all the written exams you wish to take (you are now allowed to take crane and Rigger and Signal exams at the same time) and continue to the payment page. FYI - you will be limited to how many exams you can schedule in one day, so you may have to split up your testing into multiple days depending on the number of exams.
After you have submitted your payment, you will receive an email with a receipt. Within two business days, you will receive a second email from PSI/AMP with instructions on how to register for your exam appointment online or via phone.

Candidates should apply to take CBT exams a minimum of five business days before their preferred exam date. The test site availability is not guaranteed on the preferred exam date, and availability can only be confirmed when scheduling the appointment.
Click Here to view current computer testing facilities available.
PSI/AMP will email you a confirmation of the testing date, location, and time.
---
---
Page Last Updated: Aug 01, 2023 (15:35:00)