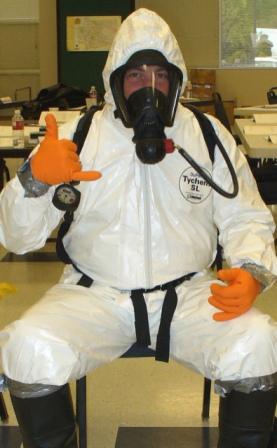 Keeping up with safety regulations can sometimes be a challenge- don't let your certifications expire- make sure you take those refresher courses when needed.
Courses are available both at the Ellensburg Training Center and at satellite locations throughout Western Washington.
---
Hazardous Materials - having a hazardous materials certification is required at many job sites. A 40-hour class is required for those operators that are not currently certified. An 8-hour refresher class is required every year to stay current.
Disaster Site Worker - this training is required to be a first responder to any disaster either man-made or natural. This course is the first step in accreditation of capable operating engineers willing to respond in the even of a disaster in or around Washington state. Also required are current hazmat, OSHA 10, and First Aid/CPR cards as part of the certification. Without this card, you will not be eligible to work is such a situation. You must have your OSHSA 10 card prior to attending this course.
Trenching & Shoring - completion of this course and with the designation of your contractor will enable you to be the Competent Person needed on site for all trenching and excavation projects. The course covers soil testing and typing, proper use of trench boxes and shoring, and WISHA regulations.
Refinery Safety Overview (RSO) - this is a certification similar to C-STOP that is required for operators planning to work within refineries. The initial training is 4-hours long and certification will last for 2 years. To renew the certification, you must attend a 2-hour course and pass the written exam. Courses are offered every Saturday at the West Coast Safety Services office in Bellingham or at scheduled dates at the union halls.
Note: The Training Trust does not reimburse fees for C-STOP certification.
OSHA 10 - This 10-hour OSHA program is intended to provide instruction on construction industry safety and health topics and to introduce participants to the OSHA Construction Safety Standards. Upon completion of the 10-hour course, participants will receive credentials directly from OSHA. This safety and health training is becoming a requirement for work on projects by many contractors or their customers.
NEW: OSHA 10 classes will now take place over 2 days of training.
OSHA 30-
NEW: OSHA 30 classes will now take place over 4 days of training.
First Aid/CPR - Upon successful completion of this 8-hour course, participants will receive a certification card valid for one year (refresher class is four hours).
Forklift Certification - Forklift certification is required in Washington and by federal laws. In order to run a forkilift on a construction project, you must be certified. The Training Program offers a 4-hour classroom safety course prior to the written exam. After passing the written exam, a practical exam is administered. Both exams must be passed to receive a forklift card.
*Ready to take the written exam? Visit IUOE Local 302 in Bothell, Local 612 in Tacoma, or the Ellensburg Training Center to take the computerized written exam.
*Ready to take the practical exam? Contact the Training Center office to get scheduled.
Pipeline Operator Qualification - Most contractors require POQ certification while working on pipeline projects. Certification consists of 4-hours classroom safety training. The card is issued by the International Union of Operating Enginners and needs to be refreshed every three years.
---